Reading Time:
34
minutes
Well I go away for a fortnight and the world turns upside down! A scorching heatwave in the UK, Italian politics reverting very much to type, and not one but TWO significant departures to talk about.
The first, That Awful Man finally (seemingly) being removed from office, is briefly-pleasing until you stop to contemplate which of the novelty Pez-dispensers of hatred is being lined up by a cadre of frightened pensioners to oversee the next glorious iteration of Project Britain. Please please please God don't let it be Truss.
The other departure, less significant to all of you but moreso to me, was my mother who died last week of the Motor Neurone Disease that has spent the past three years ruining her life (you don't 'battle' or 'fight' MND when you're old – it just beats the fcuk out of you til you die). I don't know if you've ever seen anyone die of MND up-close but, well, let's just say that it's not the fun and glamorous condition Stephen Hawking occasionally painted it as (my mother neither mastered the unknowable mysteries of the cosmos nor took a zero-gravity flight with Richard Branson, for example), and, on balance, whilst 'being dead' isn't necessarily an outcome any of us would ordinarily choose, when faced with the sole alternative of 'being tetraplegic and unable to speak and fed by a tube into your stomach and in near-constant pain' it perhaps becomes more appealing.
Sorry – that isn't to elicit sympathy, promise (it really isn't), more to explain that, as a result of this Minor Life Upheaval, the reason for my being in Rome no longer exists and so I will be packing my life up and coming back to the UK just as soon as I have 'enjoyed' the bureaucratic process of winding up a life here in Italy. As a result, Curios is likely to be somewhat more sporadic over the next couple of months – for which I apologise, but, well, equally it's not like you're paying for this.
I am still Matt, this is still Web Curios, and if you fancied you could make a donation to the MND charity of your choice (but obviously no obligation, and I will NEVER KNOW, so do as you please).
LET'S KICK OFF THIS WEEK WITH SOME EXCELLENT BREAKS MIXED BY MAKO! 
THE SECTION WHICH STRONGLY ADVISES ANY OF YOU IN THE UK TO PERHAPS NOT DO THE WHOLE 'SUNBATHING' THING SHOULD THE MERCURY TIP 40, PT.1:  
YOUR NEXT MIX COMES FROM ANJA SCHNEIDER WITH A PLEASINGLY-THUMPY TECHNO MIX LIVE FROM DC! 
THE SECTION WHICH STRONGLY ADVISES ANY OF YOU IN THE UK TO PERHAPS NOT DO THE WHOLE 'SUNBATHING' THING SHOULD THE MERCURY TIP 40, PT.2:  
By Cliff Warner
YOUR FINAL MIX OF THE WEEK IS THIS WOOZY AMBIENT SELECTION PERFECT FOR BEING SO HOT YOU THINK YOU MIGHT ACTUALLY COOK, COMPILED BY ANTONIO PROSPER! 
THE CIRCUS OF TUMBLRS!
THE TROUGH OF (INSTA) FEEDS!
Skateparks of New Zealand: Shot from above, these are great shots of urban architecture.
His Name My Name: This is beautiful (and I like the fact it uses the grid as part of its aesthetic) – it's a project exploring the history, fascism, family, memory and identity, and the stories that we tell about ourselves across generations. "An Instagram-native documentary, @hisnamemyname uses ten animated episodes to tell the story of Eline Jongsma's great-grandfather, a Nazi-aligned mayor nicknamed "Crazy Gerrit" who was erased from her family's memory after WWII. Our goal is to introduce WWII history—particularly the rise of fascism in the Netherlands—to younger viewers, and perhaps show them that following extremist ideologies can leave wounds that last for generations. At the same time, part of what makes this project so unique is its look and feel. Beautifully animated by Slovenian illustrator Jure Brglez and scored by analog synth wiz San Ré, its vividly-rendered, colorful world couldn't deviate more from what we traditionally think of as WII aesthetics." I couldn't agree more with the artists' blurb in this case, this is a really nice piece of work indeed. Also there is 'amusing' resonance with my personal life here, as I am currently dealing with the legal fallout from my embarrassingly unashamed fascist granddad's secret gun and I occasionally wish we'd erased that fcuker from our family history too (sorry Nonno, I don't really mean that. Though let's talk again once I've worked out if I'm facing bird).
LONG THINGS WHICH ARE LONG!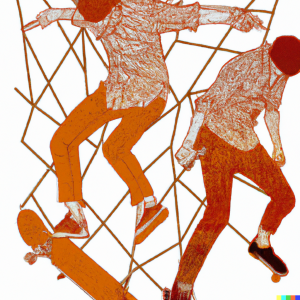 By Me and Dall-E and Egon Schiele
AND NOW, MOVING PICTURES AND SOUNDS!: