Reading Time:
36
minutes
A NEW TUBE LINE! Or at least there is for those of you in London; in Rome, the tube doesn't get to where I live because of the trifling matter of there being 2,000 year-old pottery fragments everywhere which tend to slow the development of the underground network somewhat.
Still, I'm happy for you! No, really, I am! Hopefully it will go some way towards compensating for the Winter of Discontent 2.0 which looks like it's going to be heading for Sovreignty Isle sometime in the next few months, unless the combined intellectual might of the new Cabinet can somehow contrive to sort everything out. My breath, as they say, is bated.
Except obviously it's not, as I don't currently live in the UK and none of this is my problem anymore. Instead I am looking forward to the frankly-staggering lineup for Italian 'Strictly Come Dancing' which features none other than ex-reality-TV doyenne Bianca Gascoigne as one of the contestants! No, really! Someone who I honestly thought had given up the InstaLife and retired to the country to raise hogs or something but who it transpires has once again plumped their lips for another go on the reality TV merrygoround. I do hope Bianca's agent knows what they are doing – whilst on the one hand it's a great booking, on the other it was immediately clear from yesterday's announcement that there are certain contestants who have been very much included just because they might fcuk one another, and I get the impression Ms Gascoigne is firmly in that camp. More news as and when from what I think you'll agree is the hottest TV ticket of the year.
Anyway, none of you care about that – and if I'm honest, neither do I! – and you probably don't care about what comes next either. Still, Web Curios continues to exist regardless of whether or not you give a sh1t about it – it's one of its key skills. See if you can identify any others – linguistic imprecision? Laziness? A fundamental sense of coming to the end of it all? – as you rake through the messy detritus of my prose in search of some – any! – small nuggets of goodness. They're there, I promise, but you'll really need to get down in there with your teeth to pull them out.
I am still Matt, this is still Web Curios, and the pace of everything is still dizzying to the point of nausea.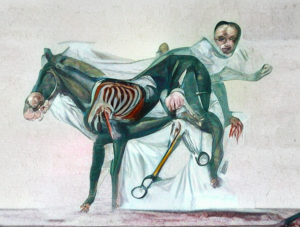 By Shardcore
THIS WEEK WE KICK OFF THE MUSICAL SELECTIONS WITH A BEAUTIFULLY-SELECTED PLAYLIST OF JAZZ VINYL MIXED BY TOM 'DAPWEARER' SPOONER!
THE SECTION WHICH IS CONFUSED AS TO HOW THIS WEEK HAS MANAGED TO FEEL SO FUTURE AND AT THE SAME TIME SO REMINISCENT OF WHAT I AM TOLD THE 1970s WERE LIKE, PT.1:
NEXT UP, A SPLENDID PLAYLIST OF SONGS SAMPLED AND USED AS INSPIRATION BY MASSIVE ATTACK! 
THE SECTION WHICH IS CONFUSED AS TO HOW THIS WEEK HAS MANAGED TO FEEL SO FUTURE AND AT THE SAME TIME SO REMINISCENT OF WHAT I AM TOLD THE 1970s WERE LIKE, PT.2:  
LAST UP IN THIS WEEK'S MUSICAL SELECTIONS, A TRULY BATSH1T-SOUNDING SET OF SONGS FROM UGANDA WHICH I CAN ONLY DESCRIBE AS AFRICAN HYPERPOP GABBA (THANKS TO LWSTD CREW FOR THIS FIND)! 
THE CIRCUS OF TUMBLRS! IS SADLY EMPTY THIS WEEK! POOR CIRCUS! POOR TUMBLR!
THE TROUGH OF (INSTA) FEEDS!
The Feed: If you work in advermarketingpr, this Insta feed (powered by We Are Social, who are not paying me for this endorsement) could be worth a follow. The Feed presents trend-type stuff from around the web and the world, and a cursory look through the posts over the past few weeks suggests that it's pleasingly-international in its outlook and features a slightly-broader selection of work for inspiration than you usually get with this sort of agency-led tripe.
The Witching Museum: Objects, pictures and prints associated with WITCHES AND WITCHING. There is no evidence that this account will hex you if you follow it, but there's equally no evidence that it won't hex you so, well, you be careful.
Looney Tunes Backgrounds: Literally that – an account that posts nothing but background images from Looney Tunes cartoons, which are literally BEGGING to be used as backdrops for your own cartoon/comicstrips featuring whoever it is that you and your groupchat are secretly laughing at this week.
LONG THINGS WHICH ARE LONG!:
AND NOW, MOVING PICTURES AND SOUNDS!: